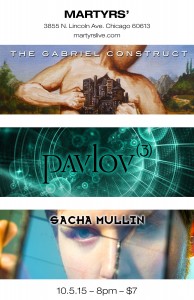 The Gabriel Construct will be playing our first live show on October 5, 2015 at Martyrs Live in Chicago, IL (8PM). We will be appearing alongside tapping player Matt Tate's band Pavlov and singer Sacha Mullin's solo outfit. TGC's lineup will be as follows:
Gabriel Riccio – Vocals, keys
Sophia Uddin – Violin, vocals
Jeff Siegfried – Sax, vocals
Sacha Mullin – Vocals, keys
Bill Banks – Guitar
Dante Kester – Bass
Thor Bremer – Drums
Bill Banks and I will also be appearing in Sacha Mullin's band, so give his solo album a listen before coming out. We hope to see you there!