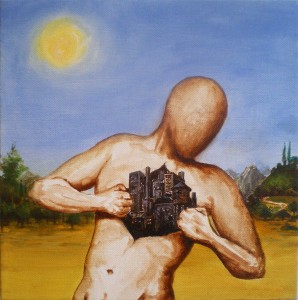 The Gabriel Construct's debut album, Interior City, was released on April 5, 2013!  It is a dark and atmospheric concept album written and performed by Gabriel Riccio and featuring Travis Orbin (ex-Periphery, Sky Eats Airplane, Of Legends) on drums, Thomas Murphy (ex-Periphery) on bass, David Stivelman (ex-Debbie Does Dallas) on guitar, Soren Larson on saxophone, and frequent collaborator Sophia Uddin on violin.  It was engineered by Garrett Davis (Train, Shinedown, The Devil Wears Prada) and was mixed and mastered by Taylor Larson (Periphery, Sky Eats Airplane, Life on Repeat).
Interior City is now available for purchase at:
Bandcamp (Physical, digital, full stream)
CD Baby (Physical, digital)
Amazon.com
/ Amazon MP3

Amazon.co.uk / Amazon UK MP3
More can be found on the Stores page.
The cover art was painted by Joseph Borzotta. His mission statement for his paintings reveals why he was the right artist for Interior City:
Many of these images explore peoples' relation to society and themselves. How connected are they to what is happening around them, or right on top of them? The paintings are a visual exploration into existentialism – analyzing existence and the freedom, responsibility and isolation of the individual. Are they in environments that they created, or are forced to live in?"
Check out Travis Orbin's thoughts on the Interior City sessions:
My involvement in this full-length album came about through an old friend from my local music scene, Garrett Davis, who has long since turned to producing/engineering. He told me about this guy who "might need some crazy drums" for his solo project, and within a couple of months I was writing parts for one of my favorite projects ever. I also helped round out the personnel, acting as a bit of a scout for Gabe and suggesting Tom as session bassist and, of course, my bud Taylor Larson for mixing/mastering.

I recorded all of 'Interior City' in early January 2012 at Garrett's digs (West Main Recording) in Salisbury, MD. I used a wide variety of gear, switching out cymbals and snares — and even my rack tom for another floor tom on occasion — per tune. I also utilized a second ride cymbal on my right side. For the most part, however, I used my Pearl Reference Pure tom-toms and my Vision kick. I used Emperor coated heads on the toms, Controlled Sound on my brass snare and a coated Ambassador on the piccolo snare (stock head). Side note, but this was the first session I ever filmed supplemented with my Canon 60D.

Obviously, a part of being in the music business is developing relationships that are integral to your career. However, in my experience, most of the people with whom I work end up as friends, for contributing to their music is a unique, intimate experience. I'm proud to call Gabe, a fiercely talented individual, my friend and to continue to work with him on future projects – both as a sideman and a full-on collaborator. Dear audience, please heed these words: you'd do yourself a service by purchasing this album upon release, finding some headphones and a quiet room and relishing the journey.
Reviews:
Abort Magazine
Absolute Punk
AltProgCore
antiMusic
Babyblaue Prog-Reviews
The Big Takeover
Can This Even Be Called Music?
Culture Catch
Dangerdog Music Reviews
Dutch Progressive Rock Page
Echoes and Dust
Empire of the Sky
Follow the Signal
Heavy Blog is Heavy
Huffington Post
I Am Entertainment
Inanna Naked
Instantfilter
Lords of Metal E-Zine
Manifesto Music
Metal for Music Majors
MetalSucks
Middle Tennessee Music
Monolith Sound
Music Emissions
Music News
Music Street Journal
Musikreviews.de
Music Waves
Obscure Sound
Prog Archives
Prog Rock Music Talk
Progulator
Progshine
Rate Your Music
Red House Reviews
Rhythm and Truth
Rocking Republic
I Rock Therefore I Am
Rock World Magazine
Sea of Tranquility
Skope Magazine
Soletron
Sputnik Music
The Aardvark
The Pulp Scribbler
The Truth About Music
This Is Not A Scene
Two Guys Metal Reviews
Under the Gun
Universum Noll
Unknown Metal Bands
Urban Alternative
Vents Magazine
Interviews:
Delmarva Daily Times
Lords of Metal E-Zine
Music Street Journal
Musikreviews.de
Pen's Eye View
Progulator
Under the Gun
Vents Magazine
Warped Magazine
Stream 'Interior City':